HydraFacial® has revolutionized facials by combining exfoliation, deep pore cleansing, and moisturizing into a single procedure. Now your HydraFacial® treatment can also target the specific needs of your lips thanks to the PERK™ lip treatment, an add-on for our HydraFacial® procedures.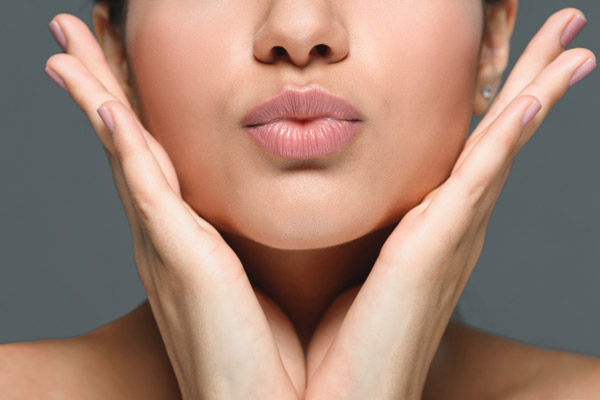 How PERK™ Lip Treatment Works
Dermal fillers and implants are the most common ways that people enhance their lips. PERK™ lip treatments are not intended to replace fillers. Instead, the PERK™ treatment provides the same benefits to your lips as our HydraFacial® does for your entire face. Our aesthetician uses the HydraFacial® system to gently exfoliate the lips and infuse them with ingredients that produce a plump, supple, soft appearance.
Benefits of a PERK™ Lip Treatment
Some of the key benefits of a PERK™ lip treatment are:
Integrated with the HydraFacial® treatment
Adds volume and softness to the lips
Includes serum for use at home
Rejuvenates the lips for a soft, supple appearance
About the PERK™ Lip Treatment
After your HydraFacial® treatment, our aesthetician adds a special attachment to the handpiece that is used to exfoliate away flakes, dead skin cells, dirt, and oils from your lips. The HydraFacial® handpiece then infuses your lips with a serum containing peppermint oil, peony extract, and other natural ingredients. You also receive a 30-day supply of the serum for use at home.
Combining PERK™ Lip Treatments With Fillers
If you use dermal fillers for lip enhancement, you can have PERK™ lip treatments. You should wait for at least seven days after your fillers to give the products time to settle into your skin. Our aesthetician can help you determine the best way to schedule your dermal filler appointments and PERK™ lip treatments.
After Your PERK™ Lip Treatment
After your PERK™ treatment, your lips look fuller and feel incredibly smooth. We recommend that you use the serum at home as directed by our aesthetician to maintain the new look and feel of your lips. Using it each day helps to prevent an aged appearance to your lips and may delay further aging. We also recommend that you protect your lips with balms that contain a sunscreen. You can add a PERK™ lip treatment to your monthly HydraFacial® treatment.
Are You Ready for Softer, Fuller Lips?
Whether you have natural lips, use dermal fillers, or have implants, PERK™ is an excellent addition to your anti-aging regimen. The serum is safe for all skin types. Call us today to learn more about PERK™ lip treatments and schedule an appointment with our aesthetician.
Request Your Appointment
Integrative Aesthetics of Thomasville makes it convenient to plan your next visit. Click the link to request an appointment time that best fits your busy schedule. We can't wait to see you!