One of the main reasons that we develop wrinkles is that our skin loses collagen, elastin, and hyaluronic acid. Collagen is the support structure, elastin gives the skin flexibility, and hyaluronic acid helps retain moisture for a dewy complexion. Collagen is also the substance that your body uses for repairing wounds, and this is how LED therapy evolved. LED light is proven to enhance wound healing by stimulating collagen development, and it can do the same for your face.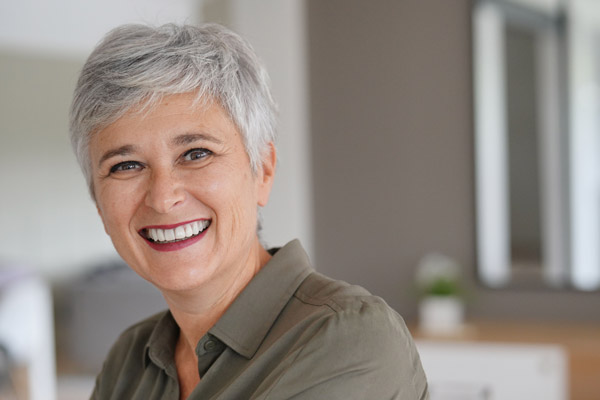 Blue and Red LED Light
LED light is emitted in red and blue wavelengths, and each wavelength has specific benefits for your skin. Red LED light improves rosacea, sun damage, and fine lines and can also minimize the appearance of scars and broken capillaries. Blue LED light therapy is recommended for oily complexions and acne-prone skin. The light destroys bacteria that contribute to blemishes and breakouts. When blue and red LED light is used in combination, it helps to cleanse and rejuvenate the skin.
Is LED Therapy Safe?
When we discuss LED therapy with our patients, many are concerned with the same skin damage that happens in sunlight. LED light is different than the UV light that is found in sunlight. It is gentler on your skin than some other treatments that rely on chemicals or lasers to remove layers of skin. Instead, LED light works with your body to stimulate a natural healing process through the production of new collagen fibers. This thickens and plumps the skin for a younger appearance.
Benefits of LED Therapy
No downtime
Gradual improvements to your skin
Leverages natural healing to correct fine lines, wrinkles, dull skin, acne, and other concerns
Safe for most skin types
Approved by the FDA
Takes only 20 to 30 minutes
LED Therapy Treatment
Our aesthetician examines your skin to determine if you need red, blue, or a combination of LED therapy. A device is used to apply the light energy, and you may feel a relaxing and gentle warm sensation. After the treatment, your skin has a healthy glow and may have a slightly pink appearance. It may also feel a little sensitive. For best results, you should plan a series of weekly treatments for about 10 weeks.
After Your LED Therapy Treatment
You should protect your skin with a high-quality sunscreen. It will be more sensitive to UV damage. Our nurse aesthetician will recommend skincare products to support your skin and the new collagen fibers. As the collagen continues to develop over the next six to 12 months, you will see a slow improvement in your wrinkles and overall appearance.
Learn More About LED Therapy
We care all about your cosmetic health! Call us today to schedule your appointment and let us help you enjoy a healthy and attractive appearance.
Request Your Appointment
Integrative Aesthetics of Thomasville makes it convenient to plan your next visit. Click the link to request an appointment time that best fits your busy schedule. We can't wait to see you!